Our Bishop and Our Diocese
Most Rev. Dr Fintan Gavin, Bishop of Cork and Ross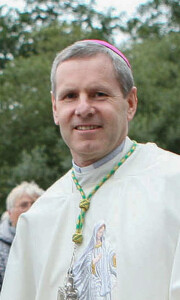 Fintan Gavin was born in Dublin in 1966 and baptised in Saint Andrew's Parish, Westland Row, Dublin.  Son of Angela and Michael Gavin, he is the second eldest of seven brothers and sisters.
His family roots are in Marino, Saint Vincent de Paul Parish, on the Northside of Dublin.  His primary and post-primary education were at CBS, Marino, Dublin. Before going to Clonliffe College, Dublin, where he trained to be a priest, he began training as a residential social worker for a year.
He was ordained to serve as a priest of the Archdiocese of Dublin by Bishop Éamonn Walsh, Auxiliary Bishop of Dublin, on 7 June 1991.
Fr. Fintan's first appointments were as teacher/chaplain at schools in Bray and Tallaght as well as assisting in the local parishes.
In 1996 he undertook post-graduate studies in Rome.  He was awarded a Doctorate in Canon Law from The Pontifical Gregorian University, Rome, in 2003.
In between and during the academic years, he ministered in Rome, Florence, New York, Buenos Aires and Alicante. He speaks Italian and Spanish.
In 2003, Fr. Fintan was appointed Vice-Chancellor of the Archdiocese of Dublin and was appointed Chancellor in 2017. (The chancellor of a diocese is the chief record-keeper, certifies documents and manages the administrative offices on behalf of the bishop.)
Up to the time of his appointment to the Diocese of Cork and Ross, Fr. Fintan was Chancellor in the Archdiocese of Dublin, Parish Chaplain in Our Lady of Victories, Ballymun Road and the grouping of parishes of Iona Road, Drumcondra, Glasnevin, Ballymun Road and Ballygall, Dublin, Chaplain to the Italian speaking community in the Archdiocese and Chaplain to the annual Dublin Diocesan Children's Pilgrimage to Lourdes.
Bishop Fintan Gavin was ordained bishop at the Cathedral of St. Mary and St. Anne, Cork on June 30th, 2019. Bishop John Buckley was the Principal Consecrator and Archbishop Diarmuid Martin and Archbishop Kieran O'Reilly were co-consecrators. His Excellency Archbishop Jude Thaddeus Okolo, Apostolic Nuncio to Ireland, was among the concelebrating bishops.
The Vicars General of the Diocese of Cork and Ross are:
Rt. Rev. Mgr. Kevin O'Callaghan, PE, VG, Lissarda, Macroom
Rt. Rev. Mgr. Aidan O'Driscoll, PP, VG, Parochial House, Clonakilty
Learn more about Cork and Ross Diocese